Message from the President
Welcome to the Nordic Wrecks!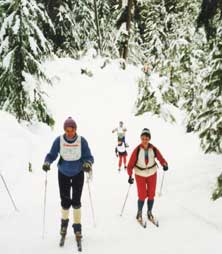 The Nordic Wrecks is a great club.  We have friendly members and we all enjoy the great outdoors in the winter on skis or snow shoes. There is nothing like seeing the snow glistening on the trees, discovering rabbits tracks on fresh snow or feeling the sun warm your back as you traverse to the other side of the valley.
Join our club and enjoy a comfortable bus ride for a day or weekend trip to winter wonderland!
Kathy Leko,
President
Monthly Newsletter
Click here for the most recent newsletter.
The monthly newsletter is mailed to all members and includes the names of the coordinators for each trip, items for sale, articles and notices regarding club social events. The newsletter editor would appreciate trip photos, anecdotes or other items of interest for inclusion in the newsletter. Send your contributions to newsletter@nordicwrecks.org
Safety and Etiquette
Safety
Being aware of potential problems and being capable of dealing with these problems is a part of every member's responsibility in any outdoor activity. Following is a brief list of items that you should consider carrying with you at all times:
Basic first aid supplies
Duct tape
Ample water
Extra gloves and socks
Whistle
Remember:
Use a ski bag for skis and poles with your name clearly marked on the bag.
Clothing
Always carry a waterproof jacket, toque, gloves and an extra pair of warm socks. Weather in the mountains can change radically in a short time so carry enough clothing to cover everything from sub-zero to balmy. Remember that most of the heat loss in cold weather is from your head. Cotton absorbs water readily and loses its insulating power, so jeans and corduroy are not recommended. Wool also absorbs water but retains most of its insulating power. Synthetics absorb less water, dry faster, shed snow easily and are an excellent lightweight shell fabric. You may need more or less equipment, depending on the extent of your trip. Dressing in layers that can be easily peeled off or put back on is a smart idea!
Etiquette
The following guidelines apply to all trips, whether organized by the club or as separate outings. Where there is an appointed trip coordinator, his/her decisions about the well being of the group are final.
Stay with your group at all times. Keep an eye on those behind you, especially at trail intersections.
Watch for any signs of distress, fatigue or cold in other group members.
Two skiers meeting head-on pass to the right of each other. Give skiers coming down the hill the right-of-way.
If you wish to pass a skier on the trail shout 'TRACK'.
Do not block the trail by skiing two or more abreast. Keep to the right on a two-way trail.
Fill all

sitzmarks

and holes made by you.
Plan rest stops to gather the group together. Make sure everyone is accounted for.
Always follow the 'buddy system' – Never ski alone!